Mind & Body
Because the mind controls your body.
A NEW WAY OF COACHING

Before planning the recommended program to use for a certain player, a small evaluation is needed of their GENES, SPORT LIFE , DIET & INJURIES OF THE PAST.

M&B PROGRAM INVOLVES:

1. Tennis Pro will also FOCUS, on GRIPS,how the player can handle FRUSTRATIONS, MIND & BODY abilities.
2. How you have to talk to each player profile is very important.

3. WE NEED TO KNOW WHAT WORKS BETTER FOR YOU.

4. For Tennis Pro it is very important to know that being in a moment of lucidity and consciously of all the circumstances, is the best way to teach.

5. LET IT FLOW Our attention, and brain development naturally, manifests itself on a regular way and on a progressively improving manner.

6. BASIC VALUES OF Mind & BODY HUMAN BEING INSIDE OF YOU.
A-Simplicity or lucidity
B-Common Sense
C-Awareness
D-Emotional reaction
E-Concentration
7. In Martennis we want to GET TO KNOW THE HUMAN BEING INSIDE OF YOU.

8. WE USE THE MATHEMATICS TO TRAIN

9. Each client will have a personalized Profile.
Seek the power to dominate consciousness just by enjoying more and improving. More importantly, try to be the best we can be.


10. We are inspired and motivated by phrases such as:
Break your physical and mental limits.
"LEARN all your life!"
Precision over power..
What would you rather be :HAPPY OR PERFECT?.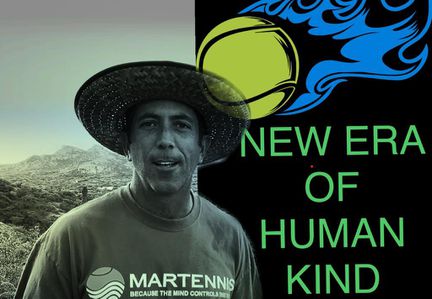 Pablo Martinez
Professional Coach
For
Pablo Martinez
it all started in a small town in the Center of the country of Mexico called Valle de Bravo, the son of Mexican parents began to play tennis on clay in a club called "Tennis del Lago" at the age of 3 years.
With more than 15 years of experience as a coach and being a former tennis player (ATP # 719), with more than 9 years in LOS CABOS, today he develops the Mind and Body program through Martennis.
Once upon a time more than 100 years ago that the royal family from England traveled to France ,they lived together and met the royal family of France.Once they got back the smallest of the granddaughters of the Queen of England asked her but grandmother the French called our sport "TENNIS". The queen replied : My dear they say it "tenes" which mean "there you have" from the the verb "to have". Starting from that analogy and knowing that the word of tennis comes from the verb "to have".